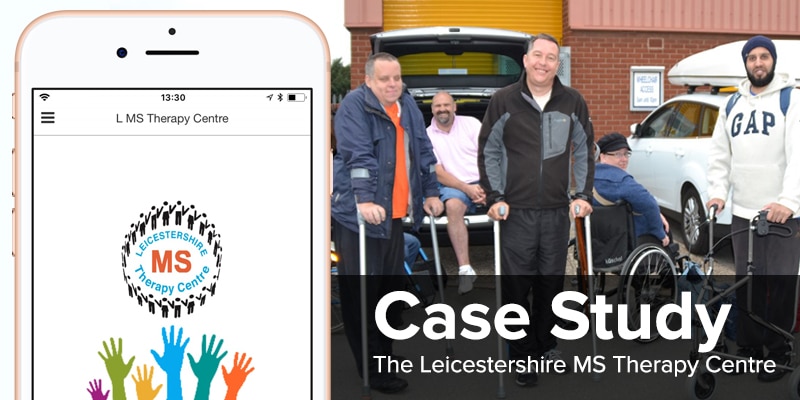 It's always rewarding for us to see charities and nonprofits using our app builder for a good cause. Charity apps are a great way to raise awareness, keep in contact with supporters and those that benefit from your work. That's why wanted to do a case study on Leicestershire MS Therapy Centre – one of our favourite app success stories.
Leicestershire MS Therapy Centre was founded in 1985 to offer non-medical therapies to people with multiple sclerosis. Over thirty years, the centre has extended its offerings to people who suffer from other health conditions and general sports injuries.
"We're entirely self-funded, receiving no grants from the central government or the NHS." Said Graham Bee, the centre's founder. "The centre offers a range of therapies, including aromatherapy, reflexology, massages, hot stones, Hopi ear candles, and facials."
"After building our first app, we're convinced it's the future."
They even offer something called 'hyperbaric oxygen therapy', which enhances the body's natural healing process by inhalation of 100% oxygen in a total body chamber.
Being self-funded, the centre needed an affordable way of keeping in touch with a growing customer base. "We wanted to make people aware of our services and to promote where we were. When you look at the cost of posters, leaflets etc it makes good sense to create your own app. After building our first app, we're convinced it's the future." said Bee.
Graham was impressed with how quick it took to build his first app using the AppBuilder. After a few weeks, he came away with a fully functional app ready for users to download. To top it off, it was an enjoyable process. "We had a blast doing it," Graham said.
"We had never created an app before and we found it straightforward and easy to use. We also found the company good to use for advice, guidance and communication."
We were super impressed to see centre's app garner 1000 downloads in such a short space of time. I asked Graham how they managed to get their app on so many devices. "Every poster, booklet and leaflet – as well as our website – has the QR code for people to scan".
Seeing a self-proclaimed app novice produce one with so many downloads was fantastic for us – and a real testament to the intuitiveness of the product. What's more – we were delighted to see that the app was well received by customers.
Want to get started building your next app? Sign up to start building for free.
---