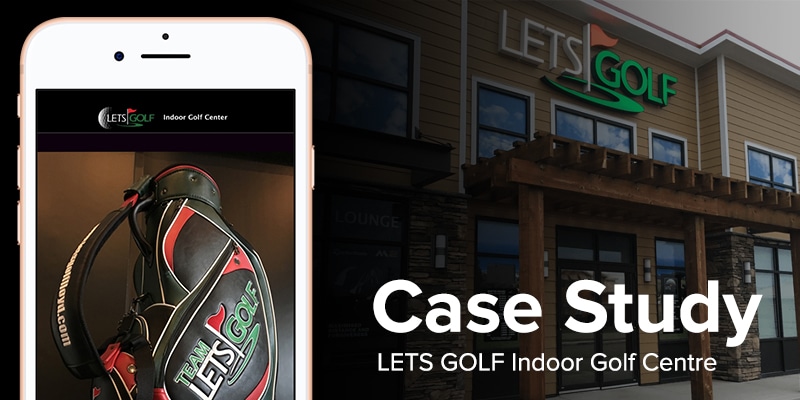 We love to see passionate, dedicated entrepreneurs using our app builder to grow their businesses. That's exactly why we decided that we had to speak to Toby Harris – founder of LETS GOLF – a former customer from Appsme. We spoke to Toby about his transition from Appsme to AppInstitute and how creating his own app has benefited his business.
Toby, could you tell us a little bit about yourself and your business? What is your background – and what do 'LETS GOLF' do?
I am a lifelong entrepreneur and owner of two businesses starting when I was 18 years old, other than my parents I have never worked for anyone in my life. I opened my second business LETS GOLF 31/2 years ago. LETS GOLF is an indoor golf center, bar & lounge. I feature 4 High Definition golf simulators. I bought year-round golf to the cold winters of Lloydminster, Alberta Canada.
What needs within your business initially made you decide that you wanted to get your own mobile app?
My indoor golf center is equipped with online tee time booking through my website, I wanted a mobile way to make it easier for clients to book times, while also offering all the information on my website in the palm of your hand through an app.
Did you have any previous experience with building apps before you tried AppInstitute? How did you find using the app builder?
I had zero experience building an app, just my website. The app builder was very easy, and also being a graphic designer adding my own art to the app was very easy.
What benefits does your app provide to your customers? What kind of feedback have you had?
My customers think it's great, makes life very easy to contact us, book times and stay up to date on specials and events.
---

---
What would you say to businesses who don't have an app currently, because they don't think they need one, don't think they can afford it or are worried they don't have the technical skills?
I would have to say first ask yourself what your business has to offer that would require someone to download your app. As just an informational tool it can be a challenge to give someone a reason to download and use regularly. Price is not the problem if you are generating the need to use which generates sales. You do not have to be tech savvy to design your app, it is very easy, of course, I am fortunate, I create all my marketing from head to toe so design and brand messaging across all media is spot on. That being said you do not have to be a graphic designer to build your own good looking app.
With over 3,000 downloads, your app has been a real success. Can you share some advice on how you promote your app?
It's everywhere, It's all over my facility, in my brochures on my Facebook page and front and center as the main page of my website. I drive all my customers to download the app for every piece of info they could ever want on LETS GOLF. It's like a simple version of my website but much more accessible.
How do you keep your customers engaged with the business using your app? (What features within our platform do you use to help achieve this?)
Booking Tee times would be the main push, either by a quick phone call through the app or my book now section. From there they can navigate through anything and everything LETS GOLF, rates, hours of operation, special events and photos. I upload my own information pages which match the artwork throughout my facility, example, Mens Nights, Date Night, tournaments and punch passes.
Yes, LETS GOLF is the #1 Golf Center in the country, and I challenge any others to dispute that. I have over 3000 downloads and I am in a town of 30,000 people. Just imagine LETS GOLF in a larger center. I have built a next level facility with next level branding the app is just icing on the cake. 100% of the people who enter LETS GOLF cannot believe its not a large chain.
Any final thoughts on working with AppInstitute and making an app for your business, or anything coming up you'd like to plug?
Working with AppInstitute has been an easy transition from Appsme. After going through a few days rebuilding the app to the new format I was very happy with some of the new features and the overall look and operation of the app. Customer service has always been quick and helpful with any issues I have had.
---